News in kdepim 4.11: Header theme (3/3) Grantlee theme generator (headerthemeeditor)
For helping user to generate a KMail theme based on Grantlee, I created an application: "headerthemeeditor".
This application is separate in 2 tabs:
Desktop page which allows to specify theme settings (name, author, extra headers to displaying, main file name etc.)
Editor page which allows to edit the theme. I added auto completion support, and highlighting support. And there is an viewer to see result
highlighting support
The theme created can be shared with knewstuff3.
During editing we can test email in 2 modes:
printing mode
normal mode
As it's possible to install theme in local it was necessary to allow to remove them
Configure dialog box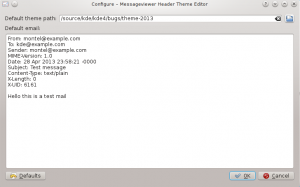 I hope that there will have a lot of themes shared 🙂